How can a high-quality dewatering press improve biomass drying? And why is it wise to prioritize mechanical drying with minimal thermal drying for higher energy savings?
Learn how an effective dewatering press can make your process smoother and be both more economical and sustainable. 
Saalasti is a pioneer in the drying of biomass with decades of experience. The new dewatering press Hippo is a next-generation mechanical dryer that has unique technology.
The dewatering press is the industry standard for biomass drying
In the biomass industry, dewatering presses are a prime example of efficient mechanical drying. They work by applying mechanical force to materials, effectively squeezing out moisture. This technology allows for efficient moisture removal while maintaining the material's integrity.
The dewatering press can be applied to many fiber-based biomass material operators, such as:
Pellet plants, for both wood chips and sawdust.

Pulp and paper mills. 

Power plants.

Panel board operators.
Saalasti's dewatering presses can operate with any fiber-based biomass material. The best results are when the machine is tested and tailored for the material, which we do in the Saalasti test laboratory.
Mechanical drying vs thermal drying? 
The question of the relationship between mechanical and thermal drying often arises in biomass drying. Both methods, mechanical and thermal drying, are necessary, but by making smart choices, the overall process can become more efficient and result in higher-quality biomass.
In general, it is recommended to minimize the use of thermal drying to maximize energy savings.
Thermal drying utilizes heat energy to reduce the moisture content of biomass materials, while mechanical drying, as known, is based on forces such as compression. 
Mechanical drying provides several advantages over thermal drying. The main advantage is evident in the lower energy consumption of mechanical drying.
In mechanical drying, the energy consumption is typically around 20-30 kWh per ton, while thermal drying can be as high as 700-1000 kWh per ton. 
When comparing cubic meters of water removal,
the energy consumption for mechanical drying is estimated to be around 30-50 kWh. 

Thermal drying ranges from 700-1000 kWh per cubic meter.
It's important to understand that effective mechanical water removal can also impact the efficiency of thermal drying. Even though mechanical drying may not eliminate the need for thermal drying entirely, but it greatly reduces the energy required.
As a result, mechanical drying not only helps to remove water more effectively but also improves the overall drying process, making thermal drying more efficient. By reducing the amount of thermal drying, the remaining thermal drying becomes more cost-effective. 
Mechanical drying also improves the thermal drying efficiency.
Mechanical drying advantages 
Enables greater energy savings, which positively impacts the entire process.

The operating and investment costs are likely to be lower with mechanical drying. They require less energy input, and maintenance and equipment costs can be relatively lower.
It helps maintain high-quality biomass throughout the process. The seasonal variations of the material quality can be removed as the moisture content stays steady.
The new-generation dewatering press reduces moisture content drastically
The Saalasti High-Pressure Press 1803 represents an advanced mechanical dewatering solution with a dramatic ability to remove water. 
During the process with the Saalasti dewatering press Hippo, wood chips are partly crushed, resulting in an increased evaporation surface area. 
As the press can reduce the moisture content of the material by up to 55 %, the remaining thermal drying process requires less heat energy. Pre-crushed materials also reduce wear in hammer mills and pellet presses.
Hippo dewatering press makes not only the dewatering but also the rest of the process easier.
The drying process is very efficient. The machine can remove up to half of the water and greatly enhance the quality of the material.

The quality of the material will be even. 

Reduces energy use and thus carbon footprint.

The particle size can be optimized and optimally homogenous.

Reduces blue haze and VOC releases during the squeezing process.

It can reduce the use of fossil fuels in heating.
The outcome of the dewatering press is material that is 40% moist, whereas the typical situation would be 55-60%.
Thermal dryer vs. Saalasti dewatering press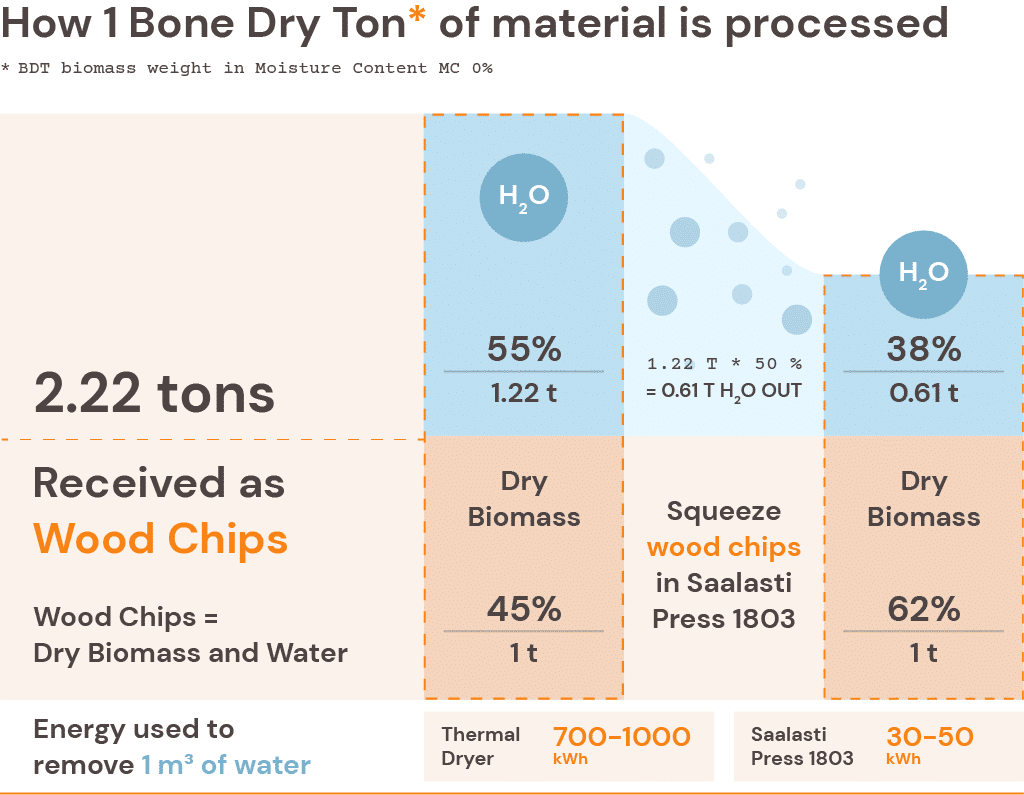 Energy use of thermal dryer vs. Saalasti dewatering press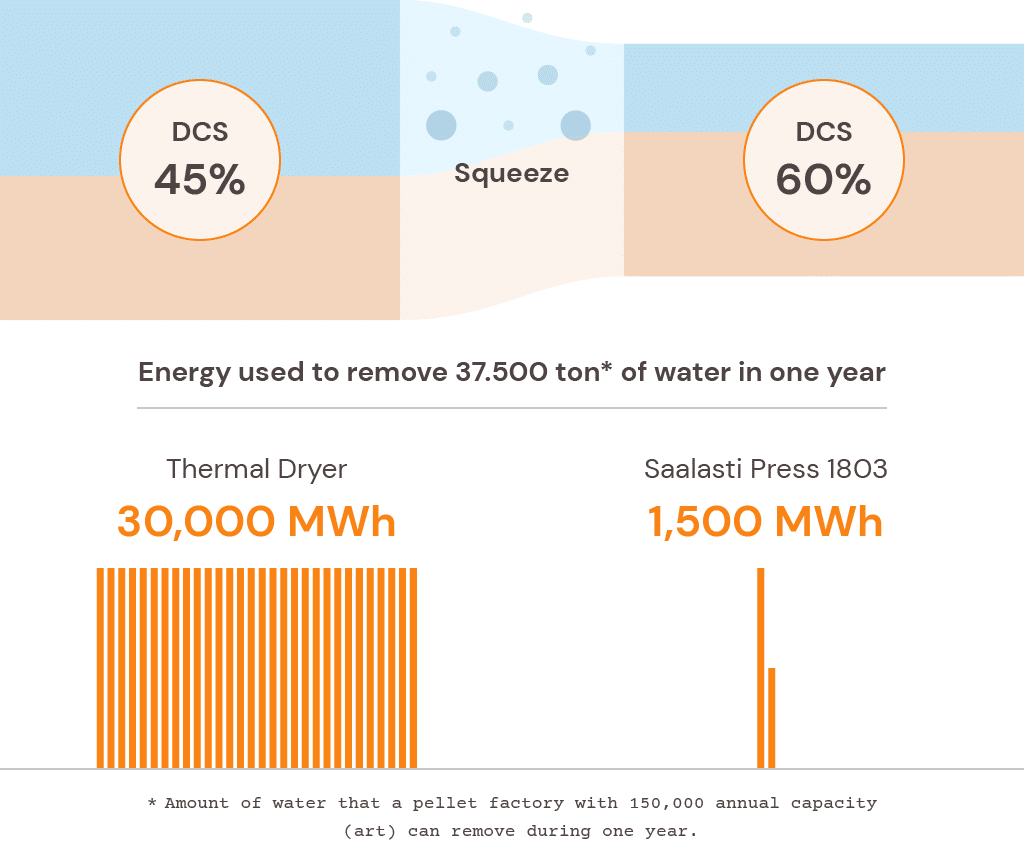 Success story: Dewatering press reduces even 55 % of the water content
Saalasti Hippo dewatering press was essential to the success of van Roje, a German company that produces FSC-certified wood pellets. By using the Hippo, van Roje was able to increase its production capacity from 60 to 90 tonnes without needing extra burning systems or more heat. The dewatering press significantly reduced the cost of production per tonne and saved a lot of energy.
 "There was no need to invest in energy production or an additional combustion system. Otherwise, we would have needed a bigger belt dryer." – Gerhard Hauschulte, the Managing Director of van Roje.
Read the whole story: Pellet production success Story: Maximal production volume with the same amount of heat
Want to know more about market-leading dewatering presses? 
Contact us to discuss more about your needs for biomass dewatering. We offer comprehensive machine installations and upgrades with over 40 years of experience. You can also get maintenance, lifecycle services, and spare parts from us all under one roof.
Read next: Biomass processing: Master the performance with the right solutions