"We have seen an improvement in energy efficiency and overall performance in our customer's sites with the help of our local services," says Jarno Petäkoski, Saalasti Spain's General Manager, as he sums up the benefits of working closely with customers. 
Located in the majestic mountain region of Léon, northern Spain, the Saalasti Spain site has been operational since 2019. We offer a complete range of services from Spain, including machine installations, maintenance, and manufacturing of new parts. The customer base includes paper and pulp mills, pellet manufacturers, and power plants. 
Keep reading to learn more about why our customers trust our services in Spain and how our team approaches customer work.
The presence of the original manufacturer ensures high-performing machines
There are many benefits to our clients when they use the services, spare parts, and products of the original manufacturer. The Saalasti machines are robust and top-quality, and we ensure that working near customers. 
All in all, the daily operation of the machines is easier for our clients, as we are near. As Petäkoski says: 
 "When we are closely present in the customer's process, we can tailor the best solutions. For example, we can manufacture customized wear parts that fit the customer's process just perfectly."
"It's important to learn about our customers' processes, and visiting their sites helps us do that. Plus, our customers save money and avoid stress when they have access to local maintenance services within 24 hours in case of urgent needs."
It makes a big deal when the machine manufacturer is one call away and in the same country.
Read also: How to maintain the maximal performance of Saalasti machine? Maintenance and lifecycle services at your service
Saalasti services in Spain
Serves clients in Spain, Portugal and France and, also Overseas France such as French Guiana. 

Client portfolio ranges from paper and pulp, pellet manufacturers, wood chip terminals, and power plants. 

Both new business services and maintenance services available.

Services: Machine installations and upgrades, maintenance and original spare parts. 

Unique service: New part manufacturing in a workshop.  

New facilities from 2023 onwards with a larger storage capacity. 

Employs six professionals from management to service engineers and mechanics.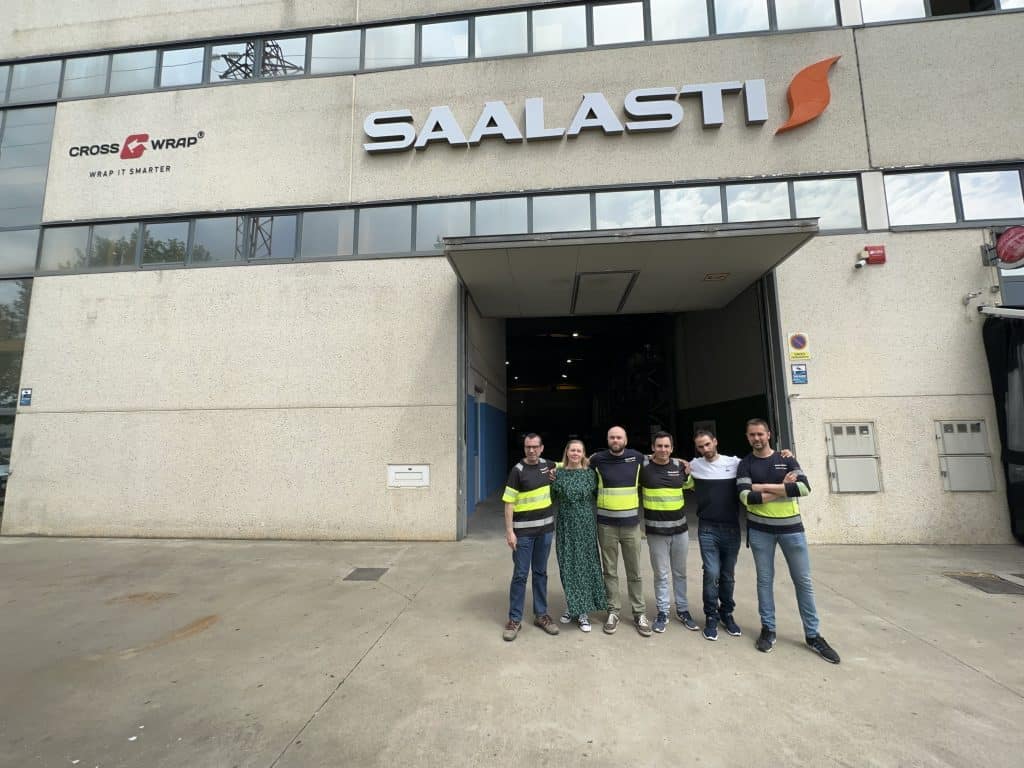 Saalasti Spain also operates closely with Cross Wrap, Saalasti's subsidiary company.
Cross Wrap offers innovative solutions for bale wrapping, opening and handling with market-leading machines. The company has a long history of working with paper, plastic, cement and waste industries.   
"Partnering with Cross Wrap allows us to provide even more value to our customers. Additionally, Cross Wrap has a strong presence in the Italian market, which we can now tap into as a result of this partnership", Petäkoski says. 
Customised top-notch parts from our workshop 
One of the unique services offered by Saalasti Spain is the in-house manufacturing of parts for our machines. 
Our on-site workshop has a range of capabilities, including a machining center, robotic welding, and manual welding. 
In-house manufacturing also provides advantages in terms of predictability and cost efficiency.
"Thanks to our on-site manufacturing, we can offer custom parts tailored to our customer's processes rather than relying on outsourced parts."
"By controlling the entire manufacturing chain, we can offer reliable delivery to our customers. By this, we can also provide more predictable prices for the raw materials", Petäkoski says.
In addition to manufacturing new parts, we also offer a rebuilding service for worn parts. When it is possible to renovate existing components, we can restore them to like-new condition. Saalasti machines are built to last for decades, and rebuilding is an essential part of maintaining them, in addition to timely maintenance.
Emphasising teamwork while learning together with our customers
Saalasti Spain is known not only for its high-quality machines and parts but also for its service-oriented approach. We believe in collaborating with our clients and working alongside them rather than above them. 
According to Service & Project Manager Luis Miguel Rosales and Production & Safety manager Julio Barthe, Saalasti's mindset encourages employees to solve problems creatively. 
"The most important thing in my job is to think about how we can deliver the best results to our clients. So when I am not working on-site or communicating with clients, I can be working with the robot machine, designing new tools, and reporting for example", Rosales says. 
"At Saalasti, our focus is on helping our clients improve their processes. Whether it's through spare parts, technical assistance, or managing maintenance operations, our goal is always to boost our clients' production levels", Barthe adds.
Both Julio and Luis Miguel emphasise the benefits of being a family-run business, which fosters teamwork and a sense of shared success. 
As Luis Miguel puts it, "It's great that we are a family company and we work as a team for the benefit of the customer. We always think about how we can work smarter and share ideas with others."
"Once you start working at Saalasti, you'll quickly notice that coming up with new ideas and improving processes is almost automatic and a vital part of your job," he ends. 
Do you want to hear more about our services in Spain, Portugal, or France? Contact us and let's discuss how we can help you! 
Read next: Get to know Saalasti Chile