Thanks to our top-quality machines, service, and the mutual trust with our clients and partners, we have rooted success in Chile. – Nicolas Rönning, the General Manager of Saalasti Chile.

Saalasti has years of business history in Chile where we offer a complete local service from new machine installations to maintenance and machine rebuilds. Our Chilean headquarters are located in Hualpén in the metropolitan area of Concepción, in Central Chile.
Read ahead and get to know our base for South American business! 
A reliable partner to the pulp and paper industry in Chile
Strong pulp and paper industries are common in both Saalasti's countries of origin – Finland and Chile. As a market leader in biomass machines, we offer local services to our clients in our biggest market areas. Saalasti's clients in Chile mostly consist of pulp mills whose operators we help with sustainable solutions. 
Setting up a branch office in Chile was needed because machine and spare part deliveries had been done to Chile for years.
– There were already many Saalasti machines in Chile so it was a natural step to grow our presence locally in Chile, Rönning says. 
Rönning has been working with Saalasti for many years. Before the Saalasti Chile office started in full pace in 2017 he was working for a company representing Saalasti in Chile. 
There are more than 25 Saalasti machines in Chile – including Saalasti Crushers, Chippers, and Presses.
Even though Saalasti Chile is geographically far from headquarters and other Saalasti offices in Sweden, Canada, and Spain, communication between the offices is close-knit. 
We have excellent relations with the other Saalasti offices. We learn a lot from one another by sharing ideas and thoughts that help our clients. When we support one another, we ensure the best possible service to our clients, Rönning states.
What services does Saalasti offer in Chile?
From our Chilean site, we offer a vast range of our services: 
Installations and hands-on training of the Saalasti machines  

Site services 

Machine rebuilding and recuperation
The growth that Saalasti Chile has had during the years is not only related to Saalasti machines, but during the years, in Chile we have developed different business areas that are related to the wood industry. They are like;
Representation of Nicholson debarkers, worldwide log debarkers for sawmill industry. 

Cutting tools sales agents for saw and pulp mills.
Technology area that provides its own developments solutions to saw and pulp mills.
Besides, with our reliable and curated partners, we offer a stronger overall service to our customers.
Speaking of Saalasti workers, Saalasti Chile provides employment to approximately 30 persons, including sales, administration,  maintenance, and services in our workshop.
We are also happy to say that we are a Great Place to Work certified organization that cares about its employers.  Our Chilean branch also gained very high points in the GPTW survey, which measures employer experience and satisfaction.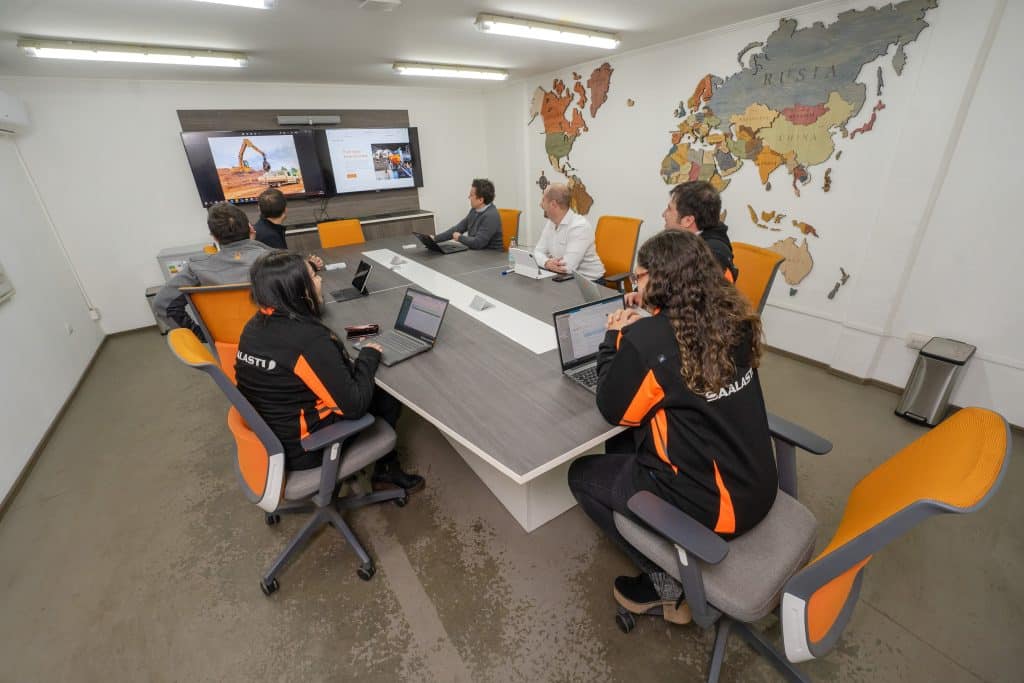 Rebuilding improves the machine lifecycle 
In Chile, the rebuilding of machine parts is a big part of Saalasti's services. We have established a workshop where our professionals are specialized in repairing worn parts of Saalasti machines. The rebuilding is usually done in our workshop, but it can also be done on our customer's site. 
– Saalasti's rebuilding workshop makes machine parts new again. Our robust machines are meant to last decades, and one important thing is to ensure the good condition of hard-wearing parts, Rönning says. 
In rebuilding or recuperation, we rebuild parts to the original dimensions and tolerances. In our workshops, we sample recuperate the parts with quality welding. 
Rebuilding makes machine parts new again.
The rebuilding scope is tailored to the customer's needs. For example, for Saalasti Chippers and Crushers, we can rebuild the rotors, crusher bars, and grates while we replace worn parts. 
Saalasti Chile also provides fast rebuilding and maintenance services locally. 
– And when the rebuild is not the best option anymore, naturally, we offer original spare parts for all Saalasti machines, Rönning adds.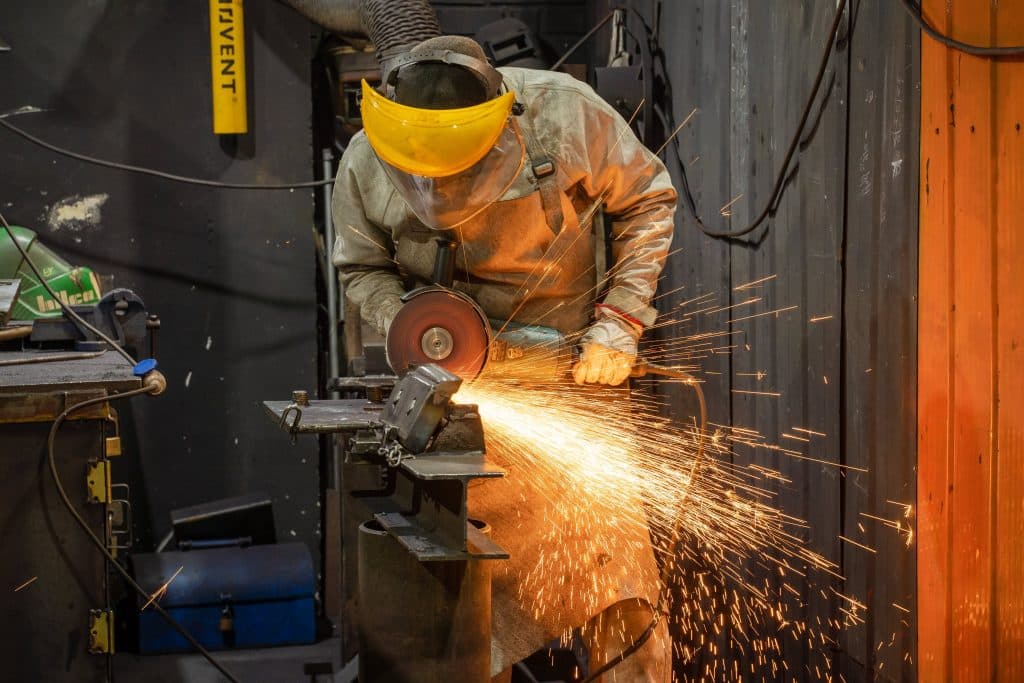 Trust and top-quality service behind every happy client
When talking about customer satisfaction, gaining and maintaining trust have been the key elements in Chile, just like in other countries. 
"Promises made are promises kept" mindset is shared by all Saalasti branches internationally.
The key element for building long-lasting trust is understanding what our customers value. 
– Our clients are satisfied because Saalasti can find the right solution for their machines.  By using the right materials, and offering quality maintenance by our professionals, we ensure the best lifecycle for the Saalasti machines, Rönning highlights.
And it goes without saying that all of our services always strive to enhance our client's business. 
– We always care about the customer's money. We have satisfied clients, as we have been able to increase the operativity of our machines, he adds.
We always care about the customer's money. Our clients are satisfied because Saalasti can find the right solution for their machines.

Also, we take full responsibility for our actions in every situation.
– Being honest is a very important value for us. If we make a mistake – which nobody wants – we take responsibility for that and fix things, he states. 
In a digital world, face-to-face meetings are still important
Saalasti has strengthened its position in the Chile office over the past few years, during which the world has changed a lot. What does the future look like for Saalasti in Chile? 
Now that worldwide travel restrictions have been eased, there will be more socialising and traveling to client meetings. Although digitalisation is rapidly going forward, it can't completely replace face-to-face meetings.
 – It looks like 2023 is finally going to be the year for traveling and socialising. More trade shows, client meetings, and new grand openings. I travel a lot for my job and regularly meet our customers, partners, and contacts on their sites and during fairs. It's very important to be on the field to provide the best service to our partners, Rönning says. 
In the future, Saalasti will strengthen its position further in other parts of South America. For example in Brazil where there is a demand for sustainable paper and pulp solutions.
Last but not least, Saalasti is an apparent operator locally. We actively partake in supporting the local community. 
 – We also do good for the community. To mention one thing, we sponsor the local rugby club and soccer teams that bring joy to people's spare time, Rönning states. 
Do you want to hear more about Saalasti services in Chile? 
Contact us and we will happily tell more about how our sustainable solutions can help your biomass business.

Nicolas Rönning +56 9 6596 0605,   nicolas.ronning(a)saalasti.com
Read next: Greet Saalasti Swedish Office: the base for support for the Scandinavian area