How was the year 2022 for Saalasti Finland? Although many unexpected things happened worldwide, we increased our turnover by 15% according to our target. The energy crisis accelerated the green transition and has opened up many new opportunities for us. Bioenergy is a compelling solution in the current market situation, especially because of its adjustability and storability. 
In this blog post, we look over the year 2022 with Petteri Korpioja, the CEO of Saalasti Finland. 
– In 2022, we reached an all-time high in the annual turnover of Saalasti Finland. Also, at the group level, we made a record in turnover. Considering the challenging world situation, this is an excellent performance. The year's events have shown that we can avoid risks more effectively by working only with democratic countries, states Korpioja.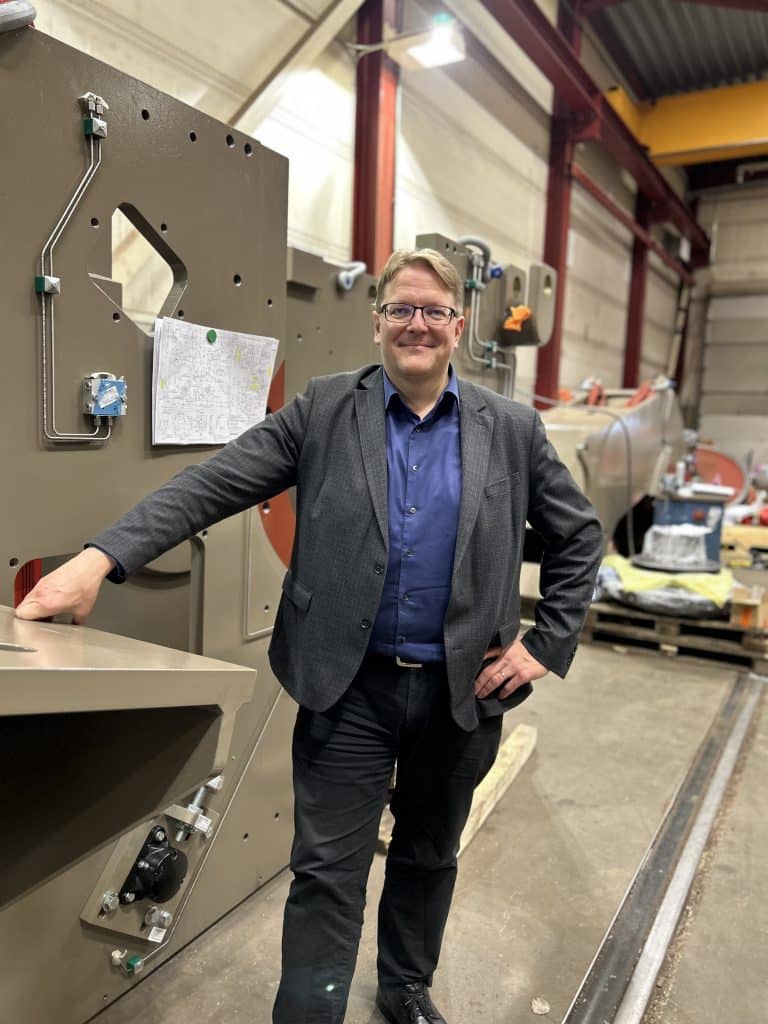 New records in several business areas and the first outside EU deliveries of HIPPO
Despite the challenging times, we increased our turnover by 15% and hit a new record for Saalasti Finland. The key factors were the positive results in sales to new customers and our lifecycle services. The turnover of new sales to customers was in total 8 million.
The year 2022 was successful for the whole Saalasti Group. At the end of 2022, our subsidiary, baling and wrapping operator Cross Wrap set a record for new orders by over 40% increase. It allows us to expect strong growth also in 2023. 
Our other subsidiary, railway specialist Teräspyörä-Steelwheel also succeeded in its business goals in the past year. In 2023 we expect Teräspyörä to continue the good development path and strong profit-making ability.
One of the highlights of Saalasti last year was starting the first major deliveries of Hippo, an innovative high-pressure press SP 1803. Hippo offers high drying efficiency and huge energy-saving potential. The feedback in the field has been very positive, and this year we see strong growth potential in the customer base of Hippo. 
The previously published Saalasti Press has been the market leader for decades, and with Hippo, we are looking for new market openings, says Korpioja. 
Turbulence in the raw material market – the Saalasti team adapted to changes quickly 
In the spring of 2022, we faced new challenges in our business. The material shortage resulting from the war in Europe and especially the doubling of the price of steel caused significant changes and challenges in the market. 
– Due to Russia's war in Ukraine, raw material prices skyrocketed, and material availability decreased. We at Saalasti reacted with strong inventory and by developing our subcontractor network, Korpioja says. 
Our production team faced these challenges at the front line. Completing orders in 2022 required a lot of rescheduling and reorganization of the work queues. All orders were delivered as agreed – thanks to the solution-orientedness and flexibility of our team. 
Within 2022, we reorganized many of our processes and operations to better respond to larger delivery volumes and projects in the future. The strengthening of these abilities will also continue in 2023.
Towards strategic subcontracting partnerships globally
The past year, our focus has been on creating resilience and finding alternative ways of working if the primary plan has to be changed. We have to tie new international partnerships to guarantee the continuity of our operations in surprising situations and better monitor our delivery times. 
In 2022, many projects were delayed due to factors influencing the entire industry. Spikes in sick leaves caused by the coronavirus, raw material shortage and production load required a review of our operating models. 
– Recently our focus has been on how to act against supply and availability disruptions in the long term. We have developed, for example, our storage of certain components. We always have high-quality original spare parts available for our customers, tells Korpioja. 
We have done significant work in procurement to increase our international procurement network and improve our supplier control. That will enhance the competitiveness of the Saalasti Group in the long term.
The war in Europe demands drawing clear lines: Saalasti stands for democracy in all of its operations 
One lesson from 2022 is to work with subcontractors that follow democracy. That will reduce risks and underline the values ​​we at Saalasti group want to support. 
– Russia's war in Ukraine put us in a difficult position because Russia has been an important market area for all of the companies in the Saalasti group. In the end, there was only one possible solution: we completely withdrew from the Russian market like many other Finnish and international companies. We at Saalasti group no longer do business with totalitarian or authoritarian states. The risks are too high, but it's also a value choice for us. We are on the side of democracy, Korpioja emphasizes. 
Despite the outbreak of the war, we have continued to work on the agreed projects in Ukraine. 
– It has been important to us that we strive to complete all started projects in Ukraine, even though it is challenging under the current circumstances. We have also supported Ukraine in other ways, for example by making a large donation to Ukrainian children, Korpioja continues. 
Russia used to be a big market area for our maintenance services, so it's notable that we were able to make an all-time high also in the maintenance business unit turnover. 
Read more: Saalasti lifecycle services
The global bioenergy market is growing even more year 2023 – investments in innovative development will continue
In 2023, Saalasti Finland aims for a 21–22 million turnover. The total turnover target for Saalasti Group is 40 million. 
We will continue with the organizational changes and investments started in 2022 to better meet our customer's needs in the coming years. We are the market leader in biomass processing solutions and part of the green transition. 
The energy revolution is proceeding and affecting all industrial operators. 
As a consequence of the energy crisis, interest in bioenergy has grown. That's primarily due to its adjustability and storability. The renewal of the energy industry will open up many opportunities for us. For example, the pellet market is growing strongly in Europe, and we are a steady partner in the sustainable pellet industry.
Read more: Pellet production success story 
The war in Europe has speeded up the green transition, showing that the world can quickly make significant changes in the energy markets. In the long term, our development plans are on the development of non-burning forms of energy. 
Do you want to hear more about Saalasti solutions and the partnership we could start in 2023? Contact us, and let's discuss the needs of your production.
Read next: Maintenance and lifecycle services at your service