"With the same time zone and local warehouse, we can serve our customers quickly and efficiently with optimal logistics", explains Tero Toikka, the CEO of Saalasti Canada and USA.
Established in 2016, Saalasti's Canada site situates in Nanaimo in British Columbia, one of North America's major forest industry regions. The location allows to cater to the needs of customers in the North American area operating in the forestry and pulp industries.
Read ahead and discover the distinctive features that set Saalasti's services in Canada apart.
The power of local presence: Seamless communication and prompt assistance
There was already a steady customer base before establishing Saalasti's site in Canada, as the area is known for its high need for wood processing. When the previous agency retired, it was natural to establish the Saalasti site.
"The best way that a Finland-based company can serve its customers overseas reliably is to establish a local site with all services. Located near Vancouver, one of Canada's largest cities, the site provides convenient access to customers in the region", Toikka says. 
Toikka also emphasizes that local presence enables smooth communication and fosters trust. Customer relationships are indeed long-lasting, spanning over the years.
"As we are in the same North American dialing code area, communication becomes seamless and immediate. This advantage is particularly important, considering that it is uncommon for individuals to have phone connections enabling international calls beyond North America."
"With the Canada site operating in the same time zone, customers can easily reach out for prompt assistance, ensuring minimal waiting times", he adds.
Meeting strict quality requirements for wood drying and processing
Saalasti's machines have long been trusted in areas with strict quality requirements specifically for wood drying.  The machines can handle various kinds of biomasses and wood qualities, including coastal hog fuel, which is a specialty of the West Coast.
"The coastal logs are transported across the ocean, and thus it has different drying requirements than the inland log. As the material differs from the inland log, there is also a need for high-performing presses and cutters", Toikka explains. 
Saalasti machines are trusted also in drying of unique coastal hog fuel that is transported across the ocean.
Saalasti services in Canada
Lifecycle services and maintenance for all Saalasti machines.

Machine installations and upgrades.

OEM parts and spare parts from  Saalasti's warehouse: 3,400 sqft warehouse is dedicated to North American customers.

Employs four persons. 

Partnership with Prometec, a Finnish high-tech company specializing in biomass analysis.
Collaboration with Prometec enables precise and automated analysis of biomass, for example, for quality development and improvement. Learn more about Prometec's services on their website. 
The Canada site stands out in Saalasti's global network due to the local warehouse and the partnership with Prometec.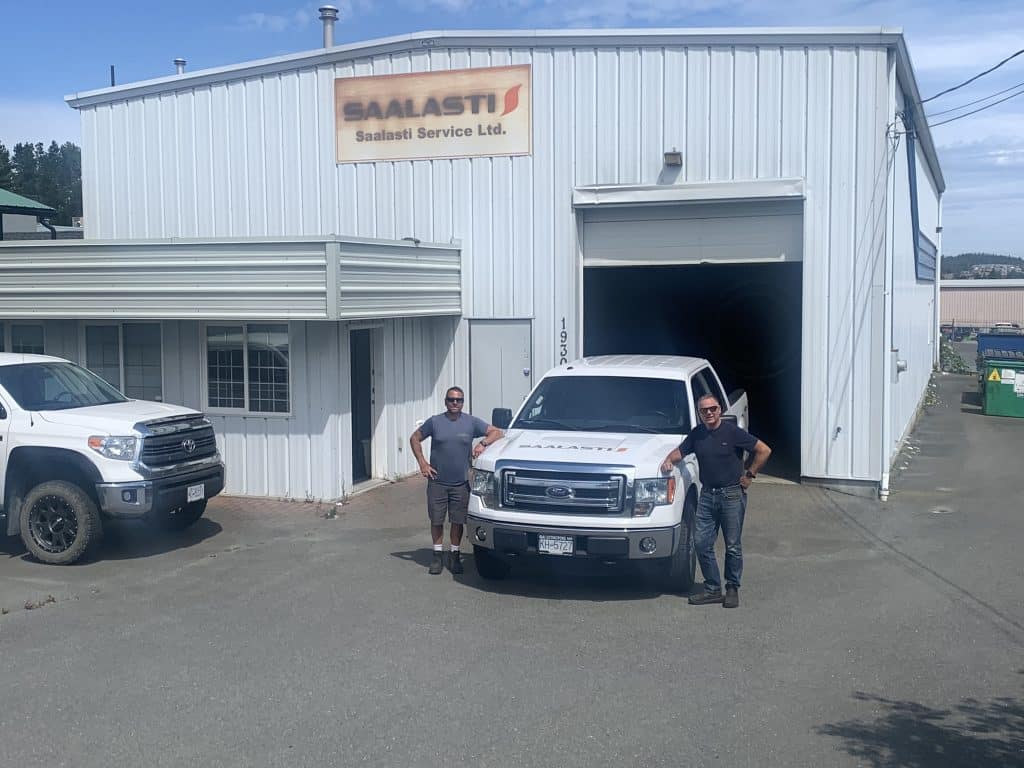 Seamless supply chain: local warehouse ensures timely deliveries
Saalasti's own spare parts warehouse plays a significant role in enabling smooth customer production.  With a storage capacity of 3,400 sqft, Saalasti maintains a substantial stock of original equipment manufacturer OEM products. 
Saalasti Canada's 3,400 square feet warehouse has a large selection of OEM products.
"The spare parts warehouse was established because it allows for timely deliveries directly from the same geographical area. This minimizes downtimes and unexpected disruptions in our customers' facilities", Toikka says.
Predicting maintenance and spare parts replacement is essential in Saalasti's lifecycle services to ensure smooth customer production.
"We conduct monthly analyses of customer part requirements and perform annual maintenance inspections. In this way we can ensure that our customers will have the right spare parts on time and their operation can continue seamlessly", Toikka ends. 
Do you want to hear more about Saalasti services in Canada? Contact us!
Tero Toikka 
CEO of Saalasti Canada and USA 
+1 250 714 2433
tero.toikka@saalasti.com
Read next: How to maintain the maximal performance of the Saalasti machine? Maintenance and lifecycle services at your service